There's nothing quite like spending your Saturday in a high school, dressed up like a school girl. I got to work with the multitalented, curvalicious (that's a word, right) social media star Trisha Paytas in her rendition of Van Halen's "Hot for Teacher." With a cameo by none other than David Lee Roth!



This update is a little late, but catch it if you missed it! It was such an honor to work with the very talented Adam Saaks. I guess I had to trust him--but I didn't see how scary it actually was until I watched it on film (I couldn't see past my ample bosom, really). Check it out!


Powered by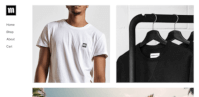 Create your own unique website with customizable templates.