Despite my parents' hopes of having their daughter someday go to med school and marry a
mustachioed engineer of their choosing, they nurtured my creativity by
requiring daily writing and reading and enrolling me in many dance and
performance classes. I spent my early grade school years as a spelling bee
queen but transitioned into cheerleader by high school.

I like to think it all began in Ceramics class in high school. I never fully
mastered the potter's wheel, eroticized as it was by the film "Ghost." I made
hideous sculptures and lop-sided vases that my family proudly displayed at
home.

During a parent-teacher conference my art teacher could only tell my mother
one thing–"Your daughter should be a model!" She told me that he spent an hour
talking about my "presence" and physical attributes. I was flattered of course
and took this vocational advice to heart. Though looking back he might have
just wanted to kindly tell me I had no future in pottery. Still, I ended up in
LA and never touched a piece of clay again.

Some were born to be artists, some were born to muses.

My modeling credits include Playboy, Maxim, FHM and other such publications
that horrify my Indian parents and make them question what awful things they
did in their past lives to have such a daughter.






Powered by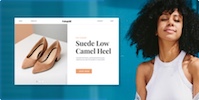 Create your own unique website with customizable templates.